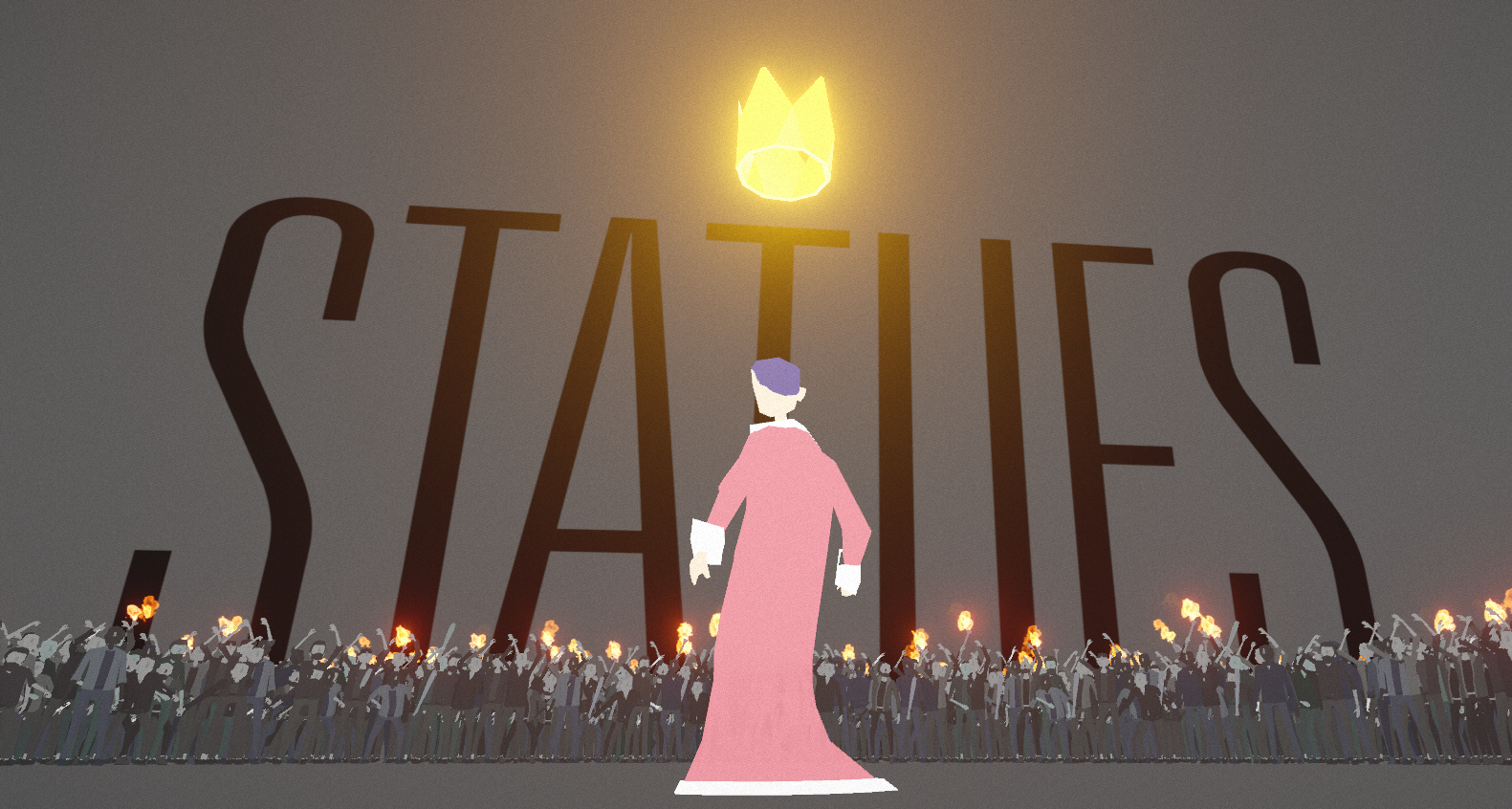 STATUES
#LudumDare40
- A short game about a king and his people playing "statues" -
- Instructions -
Hold down spacebar to read / release it to go on.
| | |
| --- | --- |
| Status | Released |
| Platforms | HTML5 |
| Rating | |
| Authors | SpaceBackyard, giucapan |
| Made with | Unity |
| Tags | artgame, Atmospheric, Dark, Dystopian, Low-poly, Ludum Dare, Ludum Dare 40, one-button, Short, Surreal |
| Links | Ludum Dare |
Download
Click download now to get access to the following files:
Comments
Log in with itch.io to leave a comment.
👏👏👏👏👏 ! That was wonderful, I love it. Thank you guys , You did a great job here.
Stop being disingenuous. Multiple people have asked what is the purpose and all they are getting in response is some "what is the purpose of life" bs. They are not understanding the "game" they just "played".
Maybe say this to the person who was actually making those statements, who isnt in any way affiliated to the game's creators. Not their problem someone decided to wax poetic in response to a comment
That was pretty good. Short and sweet.
Amazing! I really love your projects! Such interesting new formats for storytelling! Cheers!
wait wat?... thats all? ok then i guess it was an intresting game/spacebarpressingthing but... what is the purpose of this game? ( the statues looked/acted like wheeping angels from Doctor Who :D )
What is the purpose of a poem? What is the difference between our interior and exterior lives? Who believes propaganda more: the propagandist or its audience? Is there a point at which that suspension of disbelief is broken? And when it is, does the propagandist dig in deeper? Has he had time, between conceptions, to actually observe? Or do his subjects appear frozen because he is too focused on his own model of them? Yet they advance.
OKOKOK I GET IT!!!!....its a poem....how did you come up with that poemy stuff tho? from wiki? or you have some poem power?
idk i just closed my eyes, breathing heavily, and when I opened them it was there, though i hadn't expected it
i agree with you. what is the purpose?
I really liked the atmosphere and sound effects!!! You did a great job with that!